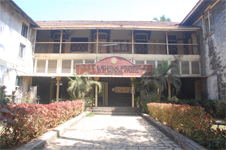 Konkan Education Society, is getting into its 100
th
Anniversary this year. Many education institutes were started in our country as an option to missionary schools. The contemporary enthusiasts in education from 'Kolaba' District started Konkan Education Society in 1917 on a small scale. It is now expanded in Raigad, Thane, Sindhudurg districts and doing a yeoman's service in 102 branches with 1882 staff teaching 49243 students.
Alogn with Primary and Secondary schools,colleges have also been started with which it has become easy for the students of rural area to complete their education up to std. 12th. This educational expansion has uplifted the life of the common people and farmers in rural area.
This year the institute has undertaken the expansion programme of Vithoba Khandappa Highschool, Keshavji Viraji Kanya shala,Panvel, English Midium School, Roha, Gangadhar Dattatray Highschool, Birwadi, Madhyamik Shala, Mankule, Narayan Nagu patil Highschool, Poynad, Secondary School, Chirner, Sardar Raobahadur Tendulkar High school, Revadanda, Sau. Pushpa Dattatray Patil (Mai) Madhyamik shala, Nehuli-Khandala, Anandibai Pradhan Science College, Nagothane. Attention is given to supply physical facilities to the students along with the educationl facilities.
The result of all school of Konkan Educaiton Society is as follows.
1. Total result of K. E. S. - 87.36%
2. The result of Raigad District - 87.13%
3. The result of Mumbai sub-division -90.41%
In SSC exam, the prize holders of Ex-life member commitee are total 110 students prize holders of K.E.S. Golden Jublee Students Fund are 140 students out of which 24 students are form rural area. Prize holders of Society's Fund are 54 students.
Similarly in HSC exam, the prize holders of Ex-life Member Committee are total 68 students. Prize holders of K.E.S. Golden Jublee Students Fund are total 30 students.
ACKNOWLEDGMENT
Konkan Education Society receives the guidance of Hon. Director of Education, Maharashtra State Pune, Hon. Deputy Director of Education Mumbai, Hon. Education Officers (Primary and Secondary) of Raigad Zilla Parishad, Alibag, Directors of Technical Board, Maharashtra State and Deputy Director of M.C.V.C. Mumbai and Hon. Vice-Chancellor of Health Science University of Nasik.

Hon. Secretary of Maharashtra State Board of Secondary & Higher Secondary Education and various banks are co-operating us. Architecture Shri. S. B. Mohite, Avd. Suyog Bartakke, Adv. Kishor Hajare and income-tax consultant Shri. Ramesh Khuslani not only guided but also co-operated the Konkan Education Society often. Konkan Education Society is grateful fo these dignitaries. The audit of Konkan Education Society of this financial year is being completed carefully by J.J. Randive Associates, Pune. Konkan Education Society is grateful to those who helped us by known or unknown people of society or organisation or institutions in the course of time.

The Vice President Hon. Adv. Nanda Manohar Deshmukh along with all the other members of the Directorate Board have given valuable co-opration in the progress of the Konkan Educaiton society.

Hon.Shri Ajit P. Shah, Secretary, Hon. Shri. Vinayak Khopkar, Chief Executive Officer, Office staff of Konkan Education Society have co-operated well in smooth functioning of all the educational and adminishtrative work of all branches of the Konkan Education Society.

I am thankful to all honorable Directors of Konkan Education Soceity, Chairman of School Committees, Principals, Headmansters and the staff, Donors and well-wishers of the Society who played significant role in the proliferation and growth of Konkan Education Society.
Jai Hind! Jai Maharashtra!...

(Sanjay Datta Patil)
President
Konkan Education Society
Alibag-Raigad