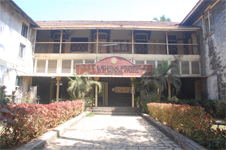 The Konkan Education Society (K.E.S.) is the pioneering educational institution engaged in delivering knowledge to the rural population in Konkan Region of Maharashtra State. The Government of Maharashtra has appropriately recognized our leading society as model/ideal educational institute. (Adarsh Shikshan Sanstha Award 2002)
The K.E.S. was established in 1917, the pre-independent period when there were Missionaries (blessed by British-Raj) engaged in imparting religious education through convent schools. Lokmanya Tilak was the Indian nationalist, teacher and activist leader for independent movement in British India and with the goal to improve quality of education for India's youth, he has appealed to promote a new system of education that taught nationalist ideas through an emphasis on Indian culture to young Indians. Inspired with this ideas, educational activist and social leaders from the Kulaba district (now known as Ragiad district) decided to open an educational institution called Kulaba Students Association. This association in the later period becomes the Konkan Education Society (K.E.S.)
Shri. Vasudev Ganesh Ranade, Shri. Keshav Ravaji Athavale, Shri. Ganesh Damodar Tillu, Shri. Sitaram Vinayak Ghate were the prominent leading members in establishment and initial growth of K.E.S. along with Shri. Narayan Nagu Patil from Pezari, Kharepat Vibhag. On passing his matriculation and full trained teachers' degree, instead of accepting government services, Shri Narayn Nagu Patil got engaged in teaching with K.E.S. schools by aiming to provide education to the needy rural population in the district. He was always attached with K.E.S. activities even after retirement from his teaching career.
Golden era of the K.E.S. begins from 1977 when MLA and much-loved leader of opposition in Maharashtra assembly Adv. Datta Patil (Dada) and his brother, Raigad Zilla Parishad president Hon. Prabhakar Patil (Bhau) took over the administrative position in K.E.S. executive committee going through democratic election process. With this change, the growth of K.E.S. becomes boundless and its school number shoots to more than 100 from merely 24 in 1977. In the past years from 1917 to 1977, the expanse of K.E.S. was restricted to Raigad (at that time it was Kulaba) district and the motto was secondary Marathi medium schools in Alibag, Mahad, Roha and Panvel taluka. As of today, K.E.S. is administrating not only Marathi medium schools in Raigad district but also runs English Medium schools, Junior and Senior colleges as well as Homeopathic Medical Colleges in Thane, Raigad and Sindhudurg districts.
The K.E.S celebrated its centenary year 2017 at Alibag in a very grand function and demonstrated its infrastructural and educational ability to grow on all fronts in upcoming years. During this span of more than hundred years, the society has faced a lot of problems including administrative, financial and judicial as well. But every time with the competent apex committee, various complex situations have been resolved and taken care of. With the required modification in its bylaws as well as administrative structures, the K.E.S. is greatly successful to stay in tune with modern educational policies of state government and Zilla Parishad authorities. Over this period, the basic ethics and the primary motto of K.E.S. to impart education and knowledge to the poorest and otherwise unreachable member of society, is never been compromised.
Since September 2011, the legacy of late Adv. Datta Patil is carried forward ably and trustworthily by Shri Sanjaybhai Patil, competently assisted by Shri Ajitbhai Shah. The leadership has guided correctly the functioning of K.E.S. schools to complete with modern infrastructural needs by providing appropriate funding for physical infrastructure to even the remotest school in the district. Considering the new approach of student-centric foundation of education, the need of changing the look of schools is the current thought in the active minds of K.E.S. administration and it is assured that the proper course of actions will be followed to fulfil all such needs.
To keep the associated educational institution in tune with changing policies in education is the ultimate aim and as reflected from past it will be definitely achieved in future for all K.E.S. schools.
ACKNOWLEDGEMENT
Konkan Education Society receives the guidance of Hon. Director of Education, Maharashtra State Pune, Hon. Secretary of Maharashtra State Board of Secondary & Higher Secondary Education, Hon. Deputy Director of Education Mumbai, Hon. Education Officers (Primary and Secondary) of Raigad Zilla Parishad, Alibag, Directors of Technical Board, Maharashtra State and Deputy Director of M. C. V. C. Mumbai and Hon. Vice-chancellor of Health Science University of Nasik

Similarly various banks are co-operating us. Architecture Shri. M. S. Mohite, Adv. Suyog Bartakke (Legal Adviser) and income-tax consultant Khushlani & Co. not only guided but also co-operated the Konkan Education Society often. Konkan Education Society is grateful of these dignitaries. The audit of Konkan Education Society of this financial year is being completed carefully by PRASS Associates L.L.P., Pune. Konkan Education Society is grateful to those who helped us by known or unknown people of society or organisations or institutions in the course of time.

The Vice President Hon. Adv. Nanda Manohar Deshmukh along with all the other members of the Directorate Board have given valuable co-operation in the progress of the Konkan Education Society.

Hon. Shri. Ajit P. Shah, Secretary, Officer & Office Staff of Konkan Education Society have co-operated well in smooth functioning of all the educational and administrative work of all branches of the Konkan Education Society.

I am thankful to all Honourable Directors of Konkan Education Society, Chairman of School Committees, Principals, Headmasters and the staff generous Donars and well-wishers of the Society who played significant role in the proliferation and growth of Konkan Education Society.

Jai Hind! Jai Maharashtra !...

(Sanjay Datta Patil)
President
Konkan Education Society
Alibag-Raigad